Plan Your Visit to Dubai Frame: Timings, Directions, Tickets, and More
The Dubai Frame stands 493 feet tall, giving visitors a bird's eye view of the sprawling city of Dubai. The design was selected from over 900 proposals as part of a competition by the government of Dubai in 2009, and was opened in January 2018. Framing the past (Old Dubai) on one side and the present (New Dubai) on the other, this Dubai landmark is the largest frame in the world, and one that you just cannot miss!
Dubai Frame Timings
Dubai Frame timings are from 9 AM to 9 PM.
The last time of entry is 8:30 PM, 30 minutes before closing.
The landmark is open all year round, although timings may vary during Ramadan.
Knowledge Graph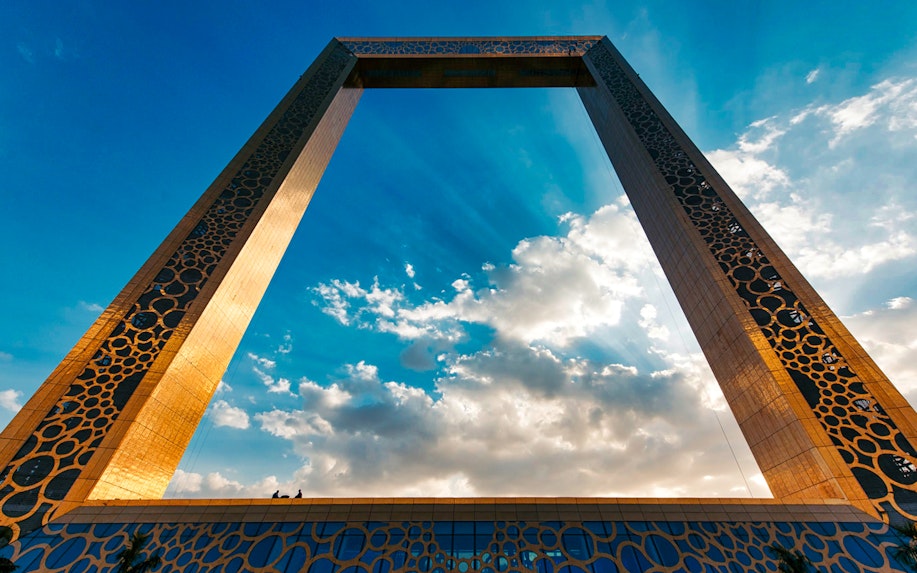 Also Known As: Golden Frame Dubai, Dubai Photo Frame, and "The biggest picture frame on the planet". 
Location: Gate 4, Zabeel Park, Dubai, United Arab Emirates. Get directions here. 
Opening: Dubai Frame was opened to the public in 2018. Learn more about Dubai Frame here.
Timings: 9 AM - 9 PM.
Dubai Frame height: 150.24 m (493 ft)
Dubai Frame width: 95.53 m (313 ft)
Number of visitors per year: The Dubai Frame was visited by 17.73 million people in 2019.
Best Time to Visit Dubai Frame
The best time to visit Dubai Frame is in the morning and during sunset. You can expect overcrowding during the weekends, but this can be avoided if you visit on weekdays, when there are fewer visitors. Select the date of your choice and visit the attraction anytime between the operating hours. You will also have maximum flexibility in rescheduling to another day with our extended 6-month validity offer from the date of your purchase.
The weather in Dubai can get harsh at times. If you prefer to visit the city when the weather is mild, then going after September will ensure a relaxed and pleasant experience. Please note that Dubai tends to get a little crowded during December - especially during Christmas and New Year's.
If you're looking for the best day to visit Dubai Frame, then head out between Sunday to Thursday. You can visit either in the morning to get a stunning panoramic view, or in the evening to witness the sunset and see the city light up after dark.
Getting There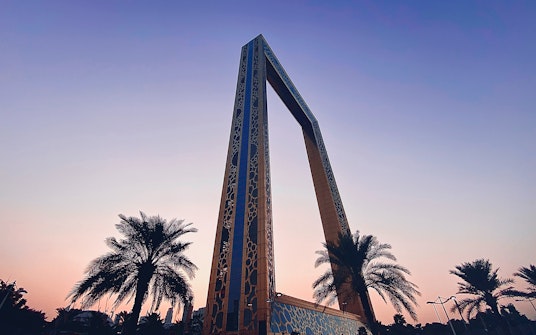 By Metro
Avoid the traffic and get an amazing view as you make your way to Dubai Frame by accessing the most advanced and modern rail system in the UAE. It's convenient, easy to hop on, and cost-effective. The closest metro station to Dubai Frame is the Al Jafiliya stop on the Red line. Dubai Frame and Zabeel Park are a couple of minute's walk from the metro station.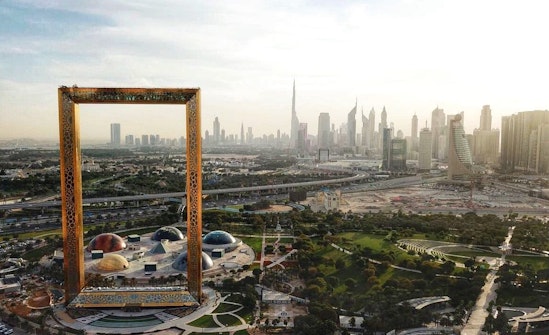 By Bus
If you're traveling to Dubai from another Emirate, opting for bus services would be the ideal choice. Experience efficient public transportation at a low cost that covers almost 82% of urban Dubai, with intercity routes going to and from Ajam, Abu Dhabi, Fujairah, Sharjah, and Hatta. Bus F09 stops at the Dubai Frame bus stop, right next to the building. You can download the RTA Dubai App on App Store or Google Play to find the best possible bus route to Dubai Frame.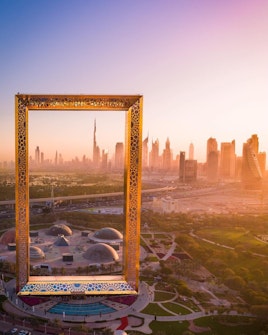 By Car
Feed in Zabeel Park Gate One on your GPS to reach the public parking near Zabeel Park. From here, Gate 4 also known as the Star Gate is a short walk away.
How To Skip the Line At Dubai Frame
1. Purchase skip the line tickets
Being one of the most popular attractions in UAE, Dubai Frame continues to stand out for its unique architectural design and invites a large number of visitors every day. However, despite the long queues, you can now stay one step ahead with skip the line access by booking your tickets in advance. Alternatively, you can also experience the best of the Middle East by opting for an exclusive city tour combo that highlights some fascinating attractions, followed by a mesmerizing view of skyscrapers from the Dubai Frame. 
2. Book your tickets in advance
Be prepared. Book your tickets in advance for the date of your choice before arriving at the Dubai Frame. The e-ticket will be sent to you via email, which can be displayed before entering the attraction. This way, you save some time by spending almost the same amount and not having to stand in long queues. Instead, you can walk up directly to the world's largest photo frame to begin your one-of-a-kind experience. 
3. Experience more through combo tickets
If you're new or want to learn more about the city, this experience is for you. Your journey will begin by being picked up from the designated pick up point and covering some of the most captivating sights that the city has to offer. You will get to see the Gold Souq, Burj Al Arab, Jumeirah, Lamer Beach, Atlantis the Palm, and more. The tour will conclude at the Dubai Frame, where you will get to witness a stunning panoramic view of the Dubai skyline. 
4. Go early 
Dubai Frame opens at 9 AM every day, which is when you can expect less crowd. Spend more time and learn about the history of Dubai; about its past, present, and future. You can enter anytime within operating hours until 9 PM for 30 minutes. 
Views from Dubai Frame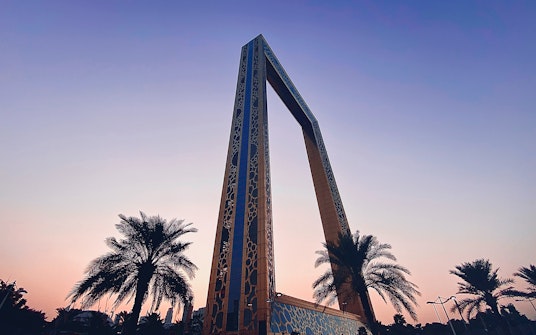 Old Dubai
Situated in Zabeel Park, Dubai Frame is at the very center of the city. From here, you will get to witness the transformation this city has made just within a few decades. On one side of the Frame, you will get to see low-rise buildings, thus witnessing the city's past. Overlooking Deira, Umm Harare, and Karama, the Frame captures old Dubai.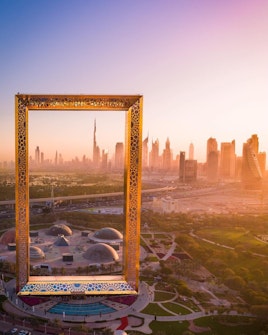 New Dubai
The frame stands as a symbol by connecting the emirate's rich past with its breathtaking present, offering a spectacular panoramic view of modern Dubai. With a 360 degree view, you will get to see a stunning collection of aligned glass buildings such as the Burj Khalifa and Emirates Towers.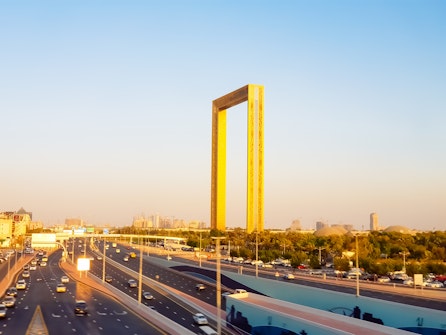 Future: What the city has to offer
Witness the Future Exhibition with virtual reality technology as you go down to the mezzanine floor, showing all the new developments and advancements that will take place in the city in the next few decades. It embodies and represents the future through an impressive 3D visual and audio-effective portrayal of Dubai until the next 50 years from now.
Visitor Tips
It is highly recommended to book your Dubai Frame tickets in advance, especially on weekdays. This will guarantee your entry for the selected slot. 
Due to safety reasons only up to 5 members of single groups are allowed per entry to avoid overcrowding at the venue.
Child tickets are available at reduced prices. This applies to children between ages 3 to 12. However, they must be accompanied by an adult. Free entry will be granted for children below 3 years.
People of determination along with 2 companions may enter free of charge.
Luggage and large bags will not be permitted inside Dubai Frame. You are required to deposit these at a locker during the duration of your visit. 
Since strollers can damage the glass flooring, it will not be allowed within the venue. Parents with infants are advised to deposit the stroller at the entrance and carry their child during the visiting period. 
Photography is strictly prohibited in both galleries. However, other parts of the Dubai Frame permit photography. 
You will not be allowed to bring in any food or beverage items into the venue. 
Pets are not allowed into the attraction. 
Smoking is strictly prohibited.
Please wear respectful clothing before entering the Dubai Frame.
Rules and Regulations
Do children get free access to Dubai Frame?
Infants under the age of 3 get free access to Dubai Frame, while children from the age of 3-12 are charged AED 20. Those above the age of 12 are charged AED 50.
Are there storage facilities at Dubai Frame?
Luggage cannot be carried into the Frame. A counter at Gate 4 allows storage for large bags and strollers.
How long can I stay at Dubai Frame?
There is no such restriction, you can stay at the Dubai Frame for as long as you like.
What other rules of visitation are to be followed at Dubai Frame?
Food & drinks, pets, sharp tools, and smoking are not allowed inside the Dubai Frame premises.